<! -- contentnav starts here, holds the left navigation bar -->
<! -- --------------- dlz_info ends here ------------------ -->
Diese Geschichte wurde im Projekt "Die Letzten Zeugen" erstellt.
"We were able to retrace our mother's and our steps of 70 years ago."
Jehuda Menczel about his impressions during his week in Vienna in May 2008.
My sister
Rachel Stein
arrived from Israel, accompanied by her husband, and I arrived from New Jersey with my daughter. We spent the war years in a Shanghai ghetto. I am writing this letter on behalf of me and my sister since we had many common feelings about this visit. At the outset, I would like to state that it was a success beyond expectations, mainly thanks to the organization and the dedication of your staff. It would be difficult to select any special experiences because the entire event was very special.
For us, the visit was not only a reunion of ex-Austrians but it was also a family reunion of sorts. My daughter and I met my mother's cousin,
Arthur Kern
, for the first time and had not even been aware of his existence until just before the visit. (My sister had met him for the first time only several weeks before seeing him again in Vienna). We shared many family stories and indeed meeting with Arthur was a very special occasion.
When my sister received your invitation she asked me join her independently. We both were quite apprehensive about this visit. In 1963, while touring Europe, with a stopover in Vienna, I felt extremely uncomfortable, perhaps bordering on paranoia. I thought that every 'older' person that I encountered was a Nazi collaborator. Since then until before our recent stay in Vienna I had no intentions of ever returning.
Upon reviewing the literature for the visit, we concluded that the organizers of this event appeared to be genuinely sincere about welcoming back their previous citizens. We were still hesitant but decided that we needed to 'take a chance' and embarked on this trip.
At the conclusion of the week we had completely reshaped our thinking. We were converted from complete skeptics to believers. It was indeed a 'changed' Austria.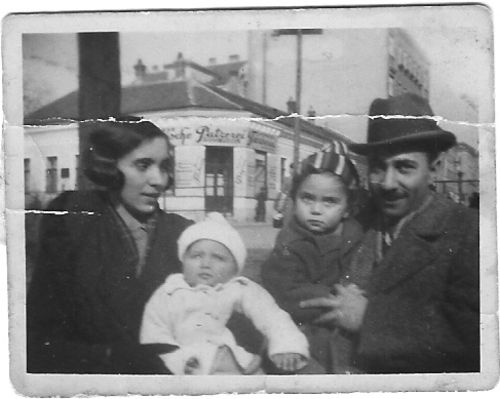 Perhaps

the

highlight of the trip was our visit to the place where we were born. Our mother use to tell us stories about the apartment windows that overlooked Schoenbrun palace. She told us about the walks to Schoenbrun in our baby carriages. During this visit, in a way, we were able to retrace our mother's and our steps of 70 years ago. They became real. It was an extremely emotional experience for all of us.

Rachel was very impressed with the students and teacher during her meeting with the students at the Don Bosco Gymnasium in Unterwalterdorf. The students were hungry about any information that she could provide concerning her life following departure from Vienna, living in Shanghai during the war, and settling in Israel. They also showed much curiosity and interest in Jewish-related matters. It was indeed a very satisfying and uplifting experience.

The attached photo shows us with our parents during good times in Vienna in the vicinity of our parents' apartment.

<! -- --------------- dlz_content ends here ------------------ -->

<! -- --------------- content ends here ------------------ --> <! -- --------------- contentnav ends here ------------------ --> <! -- dlz_content starts here, holds the information about the survivor -->